To our Guitar Students – You did it!  You've made our program such a success and so popular, that our founder has just been declared "Texan of the Week" by Texas State Networks!
http://rnbacademy.com/rock-n-blues-academy-founder-wins-texan-of-the-week-award/
"I feel like I'm in a rut."
"Learning music theory and then trying to figure out ways to apply it to my guitar playing on my own is confusing."
"I've tried to memorize the notes on the neck.  It takes too long!

"
"

I play pretty well but I wish I understood more of whats going on when I play."
"I want to learn how to understand chords and scales better, without it being boring and confusing."
"I wish I could find a really good way to learn music theory online for the guitar and not have it be so abstract.  I want to play, not just memorize rules."
"I want to write songs,  to come up with interesting ideas for arranging and better understand  and intelligently be able to compose my own music."
"

I am tired of being only able to play other people's songs."
"There's so little that I truly understand about the guitar and music, even though Ive played it for years."
"While I can play just fine, I feel like I'm faking it because I don't understand why and how it all fits together."
If any or all these things sounds familiar,  please read on.   Interest in learning more about the guitar, specifically the use of music theory in arranging, playing solos, and being better on the guitar is at an all time high.
With more and more progressive bands coming out, the gap between 3 chord bands, and  bands with well arranged and executed passages which reveal the intelligent application and knowledge of music theory (such as Children of Bodom, As I Lay Dying, All that Remains, Bullet for my Valentine, etc)  is widening.  For years the top echelon of  shred guitarists, and virtuosos alike (Satriani, Johnson, Vai etc.)  have also demonstrated a solid theoretical background and understanding, far above the average guitarist.
At the Rock N Blues Guitar Academy, we've been merging the art of musical expression and the practical knowledge of guitar theory, creating self-sufficient guitarists, and unlocking their creative musical voices since 2004.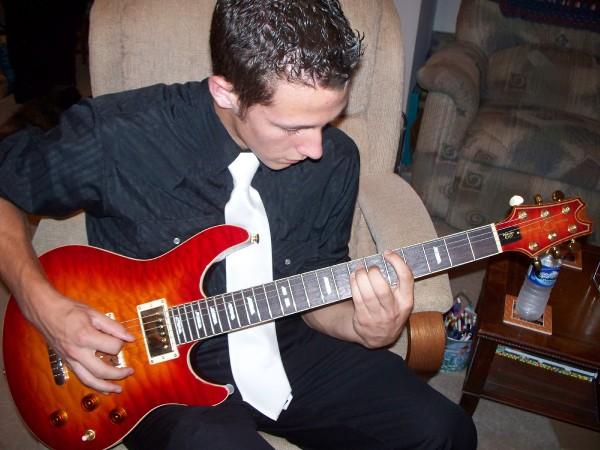 This one-of-a-kind special teaching program has been  developed over a 25 year time span, and has transformed  hundreds of  guitarists into solid, capable musicians, each having:
impressive skills on the guitar
complete fretboard and scale mastery
strong  chord understanding
solid music theory background with the ability to apply it properly
To find out more about the tried and true, time-tested and proven results of the Rock N Blues Guitar Academy, have  a look at our Course Descriptions Page .
All works published herein are Copyright © 2009 Rock N Blues Guitar Academy